Before a sumo bout, when the yobidashi (announcer) opens his white fan and calls out the names of the sumo wrestlers in a musical voice, the tension in the venue goes up.
Many people might remember his costume with the two characters for Kibun emblazoned on it during the live broadcasts of grand sumo tournaments. This page introduces the relationship between Kibun and sumo.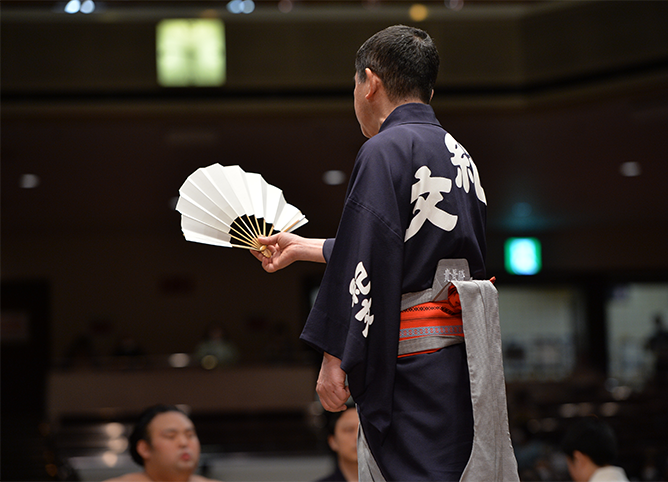 History of Sumo, Kamaboko and Osechi (Traditional Japanese New Year Foods)
Sumo, the national sport of Japan, began with a myth: a power struggle between the gods. Sumo later developed from a court spectacle during the Heian period (794–1185) and continued, in villages, as a ritual for praying for a bountiful harvest. Sumo then became a form of entertainment in the Edo period (1603–1867) that was popular with the general public. Later, grand sumo was formalized and refined as a sport, becoming a cultural event unique to Japan.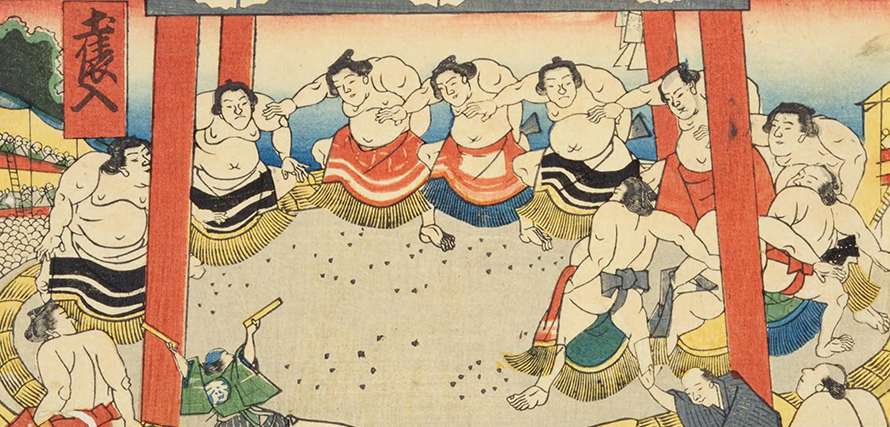 Similarly, fish paste-based products were mentioned in documents from the Heian period, and eating osechi (cuisine or traditional Japanese New Year foods)—a prime example of an annual event—was developed as a court ceremony. In the 1,000 years since then, osechi has become an established part of life in Japan as an offering to the toshigami sama (fertility or harvest gods).
As a comprehensive food manufacturer focusing on these fish paste-based products and osechi, Kibun's whole history has been bound up with Japan's unique food culture.
The Beauty of Sumo and of Osechi
Sumo and osechi are closely connected to life in Japan and have long been needed and loved by many people. Kibun believes that one of the reasons for their popularity and fascination is their beauty.
The types and forms of sumo in Japan were not created overnight. Such things as the ring-entering ceremony, table of rankings, wrestlers' formal aprons, topknots, costumes, and the bouts are based on a unique type of beauty.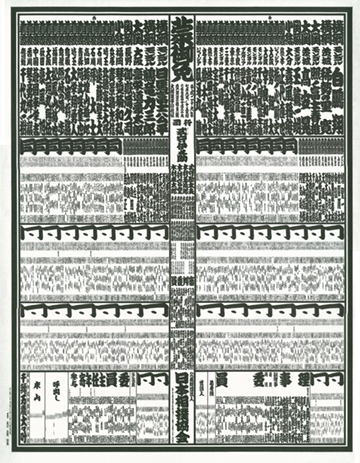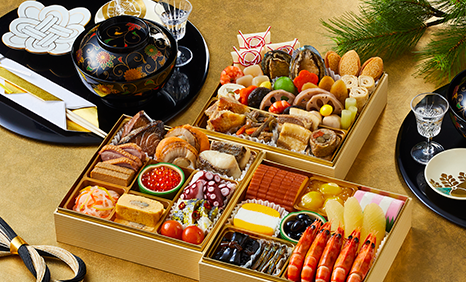 Osechi, on the other hand, is an ancient Japanese custom of eating with an imploring heart, praying for happiness and a bountiful harvest in the new year. This tradition was refined and formalized by being matched with tiered food boxes, and has been passed down through the generations as modern osechi.
Relationship between Sumo and Kibun
Sumo and Kibun, as part of Japan's traditional culture, have a strong affinity for each other. This relationship began as an expression of our founder's appreciation for the labor of the yobidashi announcers, as well as for the people who swept the ring and carried out other, usually unappreciated, tasks.
In 1929, at the age of 15, Kibun's founder left Yamagata Prefecture and moved to Tokyo with the goal of becoming a top trader. He found support from the neighborhood and the people of Tsukiji (fish market).
Throughout his life, he valued his connections with the people of Tsukiji and their connection with Kibun. He also happened to be a sumo enthusiast, and gathered together other sumo enthusiasts in the neighborhood, forming a sumo club around 1932 when he was working in a rice shop.
In 1948, shortly after the end of World War II, when goods were in short supply, our founder heard about the situation of yobidashi and decided to give them costumes, which until then had to be provided by the yobidashi themselves.
The two characters for Kibun were not originally added to the costumes for advertising, but rather as a token of gratitude from the grand sumo promoters. These costumes, emblazoned with the company name, appeared unintentionally—as they did later before the world—becoming such good advertisements that the idea was copied by other companies.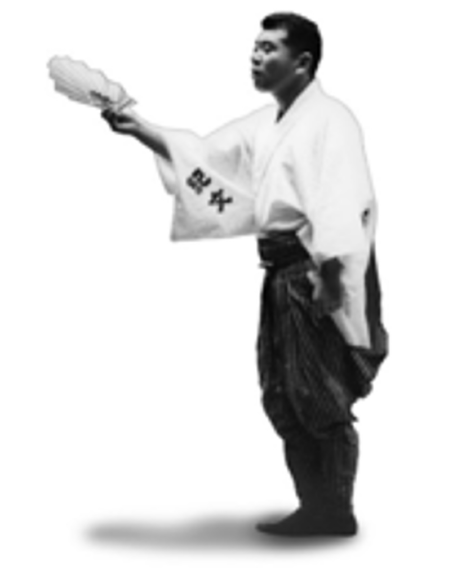 Respect for Traditional Culture, Learning Its Spirit
Kibun believes that one of our missions as a company is to nurture new traditions by continuing to innovate with the times, while also carrying on Japan's finest old traditions.
We believe that learning the spiritual nature of traditional culture is important for its continuation, as well as an opportunity to learn about it. For these reasons, we held a draw for employees to go and watch grand sumo tournaments as one of the commemorative events in 2013 for the 100th anniversary of our founder's birth and in 2018 for the 80th anniversary of the company's founding.
Employees who took the founder's passion into their hearts and minds saw grand sumo and commented on their experience. Some of the comments included, "I could feel the beauty of Japanese tradition and prestige," "I felt proud to be working for Kibun," and "I was humbled to see the hardworking yobidashi."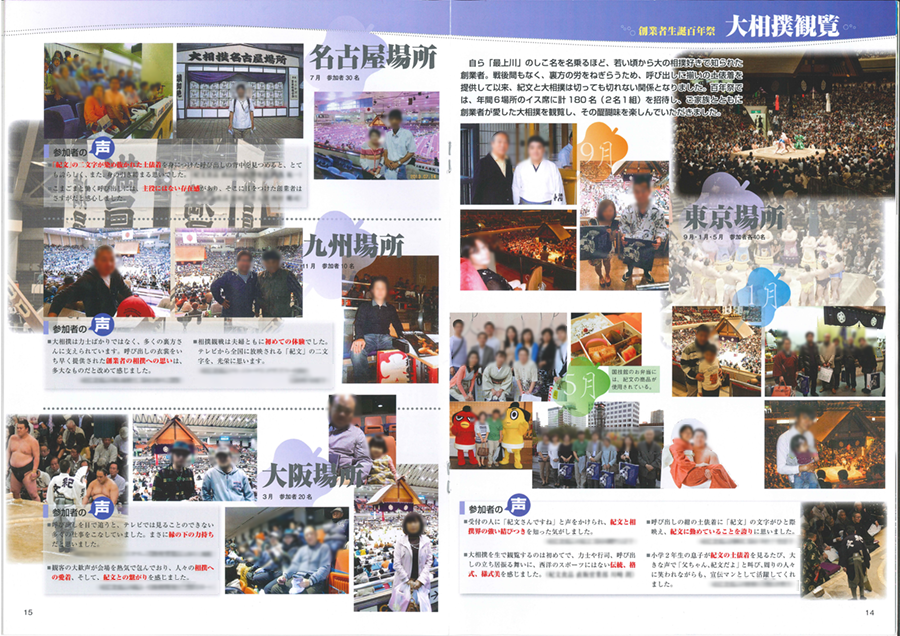 Welcoming Customers with Traditional Japanese Culture
At the Hinode office of Kibun Foods Inc., a summer or winter costume hanging on a kimono rack and a yobidashi's (announcer's) signboard are displayed during the Tokyo Grand Sumo Tournament.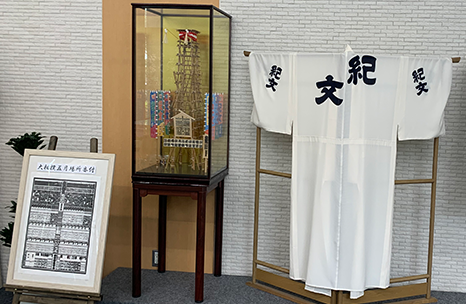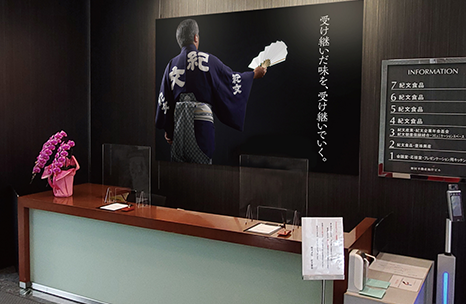 In addition, a room to welcome visitors has a permanent display of lacquerware, such as the tiered food boxes required for osechi and handicrafts in the shape of oden ingredients made from wood. (*Reservations are required for visits.)
We hope that all visitors will enjoy experiencing the wonder of Japanese culture, including powerful displays related to grand sumo, the exquisite beauty of lacquerware, and the warmth of wood crafts representing oden.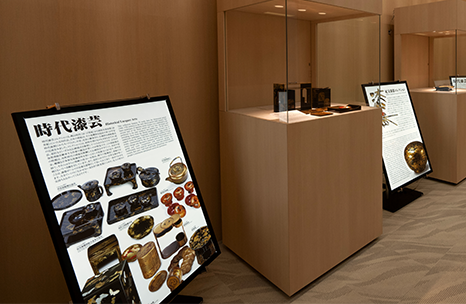 References:
Sumo no Rekishi (History of Sumo) by Makoto Takeuchi, edited and published by the Nihon Sumo Kyokai (Japan Sumo Association), 1993
Japan Sumo Association official website
National Diet Library Digital Collections
Iwai no Shoku Bunka (Celebration Food Culture) by Sachiko Matsushita, 1991
Heibonsha Sho Hyakkajiten 1973 Nenban (Heibonsha Small Encyclopedia, 1973 Edition) [Current title: "Mypedia—Sho Hyakkajiten (Mypedia—Small Encyclopedia)]
Sogo Chori Yogo Jitenshu (The Dictionary of Cookery Terms) edited and published by the Japan Association of Training Colleges for Cooks, 2010