In Japan, tradition has nurtured a number of decorative arts.
Of these, lacquerware is distinguished by magnificent color and exquisite design: the warm beauty of black lacquer, the brilliant luster of red lacquer, the radiant gold and silver of makie, the subtle gleam of inlaid white and blue shells…
When they hear the word lacquerware, many people in Japan think of tiered food boxes.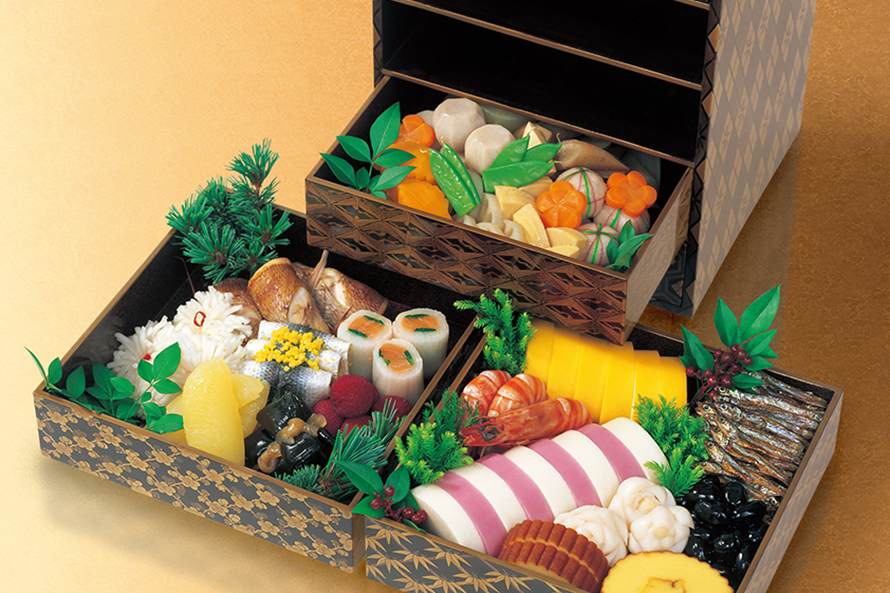 History of Cooking for Japanese Seasonal Events and Osechi
The Japanese lifestyle is colored with various seasonal occasions, from ancient spirit worship and the religious rites of the Imperial Court, to leisure activities such as cherry blossom viewing and clam digging popularized by townspeople during the Edo period.
Foods connected with these seasonal rites were subject to culinary conventions governing ingredients, preparation, presentation, and furnishings. Naturally, these conventions have been simplified in contemporary life, yet the custom of enjoying food and savoring life is deep-rooted in Japanese culture.
One of the most elaborate of the seasonal rites, the new year is marked with o-sechi ryori (traditional NewYeafs cuisine), originally prepared in honor of Toshigami, or sprits that return to each home at the beginning of the year.
Symbolic of sharing the first meal of the year with the spirits, giving thanks for the year past and praying for good fortune in the year to come, this custom embodies the Japanese "spirit for prayer" and "sense of beauty".
With the development of tiered lacquered food boxes, this custom became even more refined. The New Year's cuisine today derives from this tradition.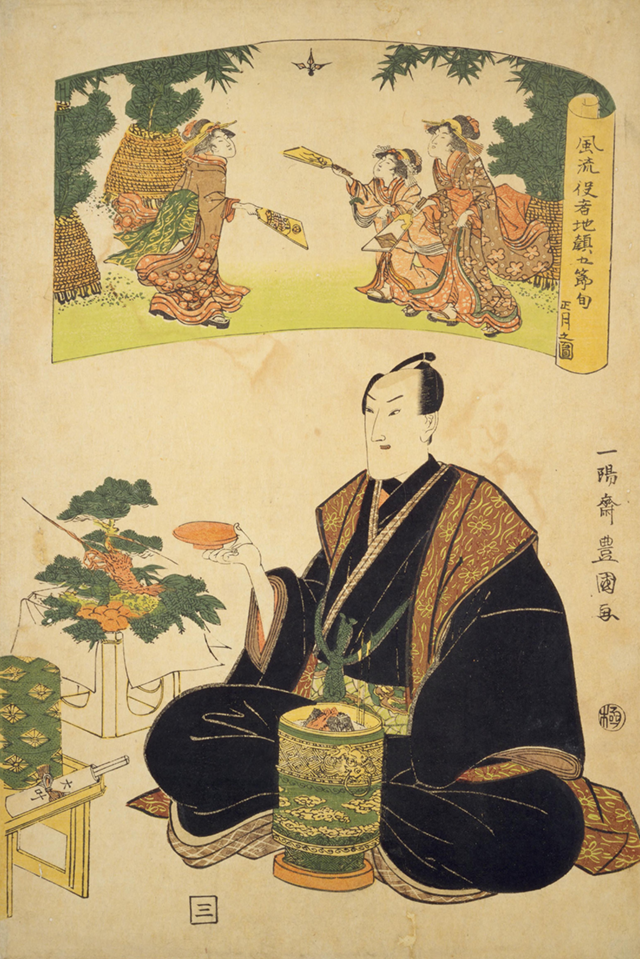 Lacquerware Meets Kibun
From Kibun beginnings as a maker of kamaboko (cured fish cake), we have grown to become a general food manufacturer, focused mainly on surimi products.
Kamaboko has a history of over 1000 years, and as a producer of this traditional food, we are constantly aware of Japan's unique culinary customs.
Osechi, the core of Japan's culinary culture, has a significant place in the history of Kibun as well, and tiered food boxes are the essential container for osechi.
In fact, our association with lacquerware also began with the elegant presentation of New Year's cuisine in tiered boxes.
Box and cuisine became intimately connected, an apt example of yo no bi (beauty through use).
Fueled by a fascination with this "beauty through use" we began collecting tiered boxes both antique and contemporary.
We saw this as an opportunity for us, as a company, to re-examine aspects of Japanese culinary culture embodied in foods and vessels.
This was done in anticipation of our 50th anniversary in 1988.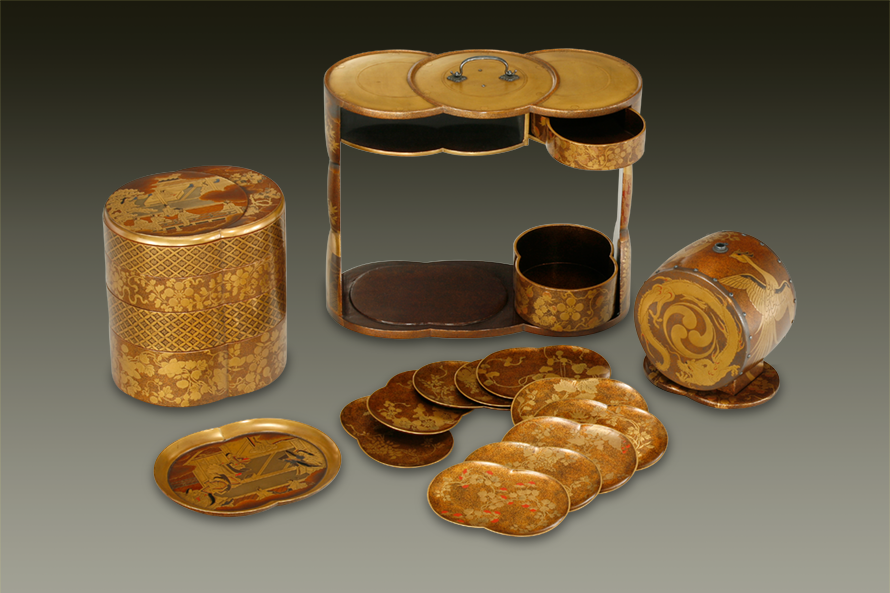 Our Mission Is to Maintain Traditional Culture and Pass It on to Our Customers
Kibun believes that one of our missions as a company is to nurture new traditions by continuing to innovate with the times, while also carrying on Japan's finest old traditions.
 
Our lacquerware collection, which began with antique tiered food boxes, has expanded to include other food-related items, such as lunchboxes (bento), low serving tables, bowls, stemmed sake cups, plates, and bonbonnieres. In addition, we have added to the collection some lacquer works by contemporary artists to both recognize and support artists who are developing new techniques while passing on traditional crafts.
To commemorate our 70th anniversary in 2008, we began production of a book entitled The Sublime Beauty of Lacquer: Kibun Japanese Lacquer Collection to detail our collection with color photographs of 103 works plus a description of their characteristics as well as the history and techniques of lacquer crafts. This book was published in 2010.
The Sublime Beauty of Lacquer: Kibun Japanese Lacquer Collection includes detailed explanations of these works by the Tokyo National Museum and, from a cultural perspective, descriptions of Japanese food culture as well as tableware and the origins of Edo culture. This bilingual publication has side-by-side English translations to make it accessible to overseas readers.
At Kibun, we hope to leave for future generations the loveliness of lacquerware, osechi, and other beautiful Japanese customs, and to bring joy and enrichment to people's lives by communicating the cultural value of these customs.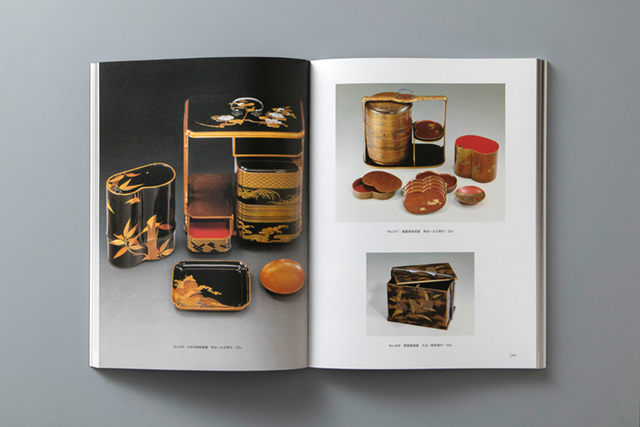 Welcoming Customers with Traditional Japanese Culture
Our Hinode office has a lacquerware display room so visitors can see a portion of Kibun's lacquerware collection. At the end of every year, we display a signboard for osechi served in tiered food boxes.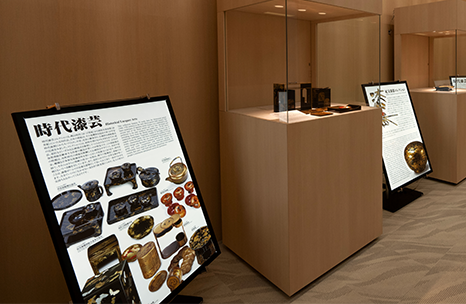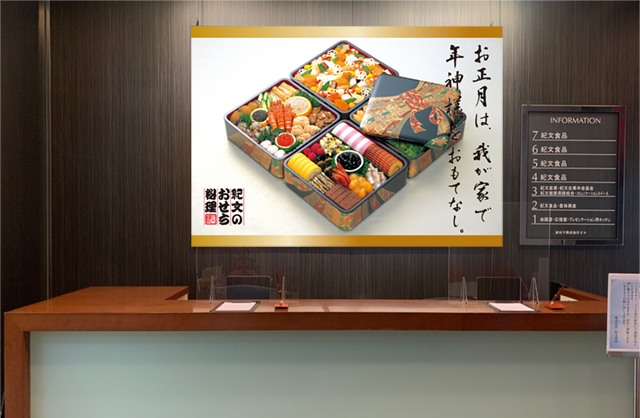 In addition, we are welcoming customers with displays of a summer or winter kimono hanging on a rack and a yobidashi's (sumo announcer's) signboard used during the Tokyo Grand Sumo Tournament as well as a permanent display of handicrafts in the shape of oden ingredients made from wood.
We hope that all visitors will enjoy experiencing the wonder of Japanese culture, including powerful displays related to grand sumo, the exquisite beauty of lacquerware, and the warmth of wood crafts representing oden.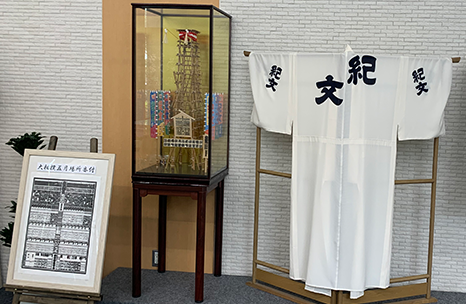 < A selection of Kibun's lacquerware collection is shown here >
Historical Lacquer Arts
This collection features 70 works from the Momoyama period (16th -17th century) to the early Showa period (20th century).
The basic techniques of Japanese makie lacquer were established in the second half of the Heian period and were then developed and perfected in the later medieval and modern eras. All the pieces, including those from the Showa period, make innovative use of traditional techniques.
Especially notable is the large number of superb works by artists who have continued the tradition of Kaga makie, characterized by the use of traditional Muromachi period makie design and decorative materials such as shell, kirikane (cut gold) and coral. Lacquerware with auspicious designs has traditionally been used for special occasions and celebrations.
As vessels that carry vital food and drink, lacquerware also transmits people's sentiments and prayers across the generations.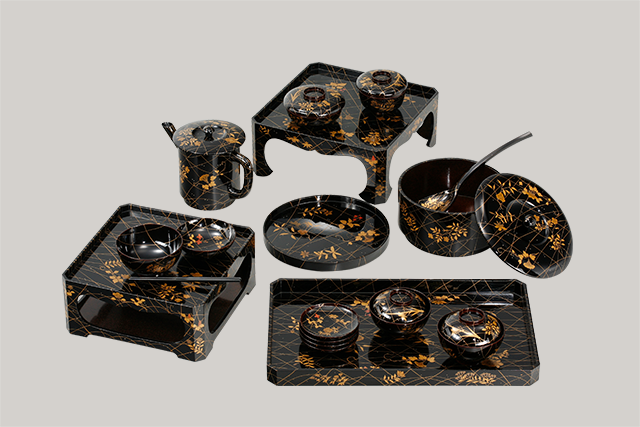 Kaiseki-dogu with floral design in makie
20th century, Taisho to Showa period
Tray:310mmx525mmx40mm
Kaiseki-dogu refers to a set of tableware used during meals at tea ceremony. As the manners of kaiseki are said to be based on the spirit of Zen Buddhism, an arrangement style of dishes developed from the Zen temples. This kaiseki-dogu comprises five sets of rice bowls, soup bowls, tsubo-wan, hira-wan on footed trays, and a rice container with a stand, a scoop, a water ewer, a round tray and a rectangular tray. All vessels are lacquered in black and decorated with the design of dewy silver grass field in gold and silver makie, with floral motifs executed in gold and aokin hira-makie and tsukegaki technique. With all the sides adorned with decorative makie motifs, this is a fascinating example of kaiseki-dogu.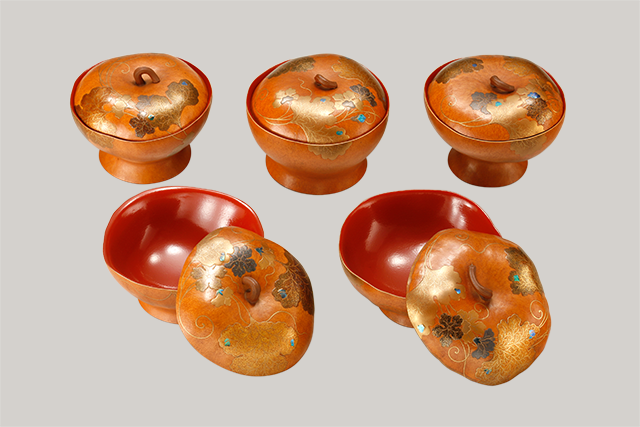 A set of nimono-wan with gourd design in makie
Artist: Ogaki Shokun
20th century, Taisho to Showa period
100mmx100mmx80mm
These nimono-wan ( bowls for cooked vegetables ), are also made from gourd. Bowls of this form are also called kashi-wan ( bowls for Japanese confectionery ) or Ohira-wan. The inscription on the outer casing shows that this set of bowls was made by Ogaki Shokun. Similar extant examples of Shokun's bowls made from gourd suggest that this technique was one of his specialities.
A tray with ivy design in makie
19th century, Meiji period
275mmx275mmx185mm
A hexagonal tray placed on a tall stand with three octafoil shaped windows on the side. A stand with three windows on the side is called sanpo or sanbo, usually made of unpainted hinoki (Japanese cypress) without any decoration. Sanbo is used to display food offerings, but this work appears to be made for use as a stand for sweets. This example is splendidly decorated with motifs of ivy executed in gold, silver and aokin (an alloy of gold and silver) burnished makie with thinly cut gold foils. The metal powders are carefully chosen and applied skillfully to make a gradating effect.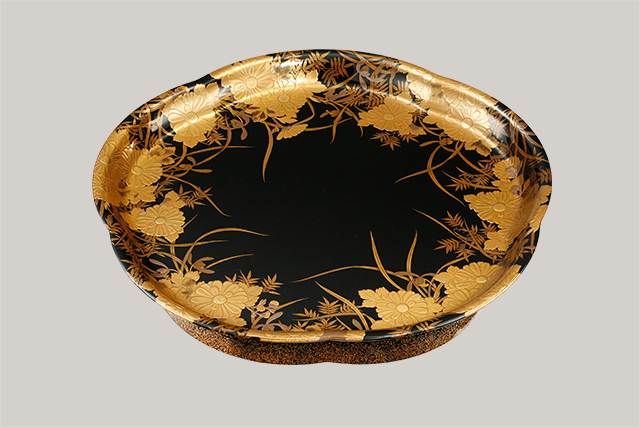 A flower-shaped tray with "shikunshi" design in makie
Artist: Tsuruta Nobutaka
20th century, Meiji to Taisho period
365mmx365mmx65mm
A flower-shaped tray with a large foot ring. The inscription on the outer casing shows that this tray was used to display sweets.The interior depicts chrysanthemum flowers among which bamboos and noble orchids are modestly drawn. The word shikunshi (four gentlemen) in the title refers to four plants; the orchid, the bamboo, the chrysanthemum, and the plum blossom. Three plants out of the four are found in the makie design and the rim of the tray in the shape of a plum blossom completes the quartet. Such witty composition is characteristic of lacquer works after the mid Edo period. The red seal on the bag implies the name of the craftsman who made this tray.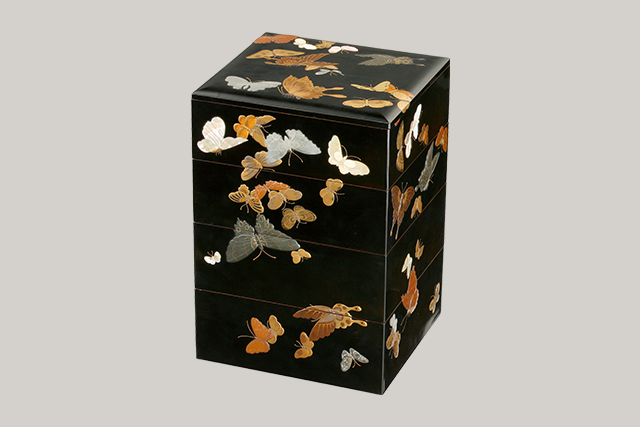 Stacked boxes with butterfly design in makie
20th century, Meiji to Taisho period
212mmx230mmx333mm
A four layer set of square boxes. Colorful butterflies are delicately applied in gold and silver taka-makie, mother-of-inlay, gold cut foils, and urushie (depicting motifs using colored lacquer). In ancient period, butterflies were imagined to be an incarnation of the human spirit, and butterfly motifs were often applied on ritual instruments, but with the passage of time, butterfly patterns came to be applied on lacquerware not for its spiritual implication but simply for its decorativeness like this example. The inscripition on the outer casing tells us that this work was made by Kansai, but the details are unknown.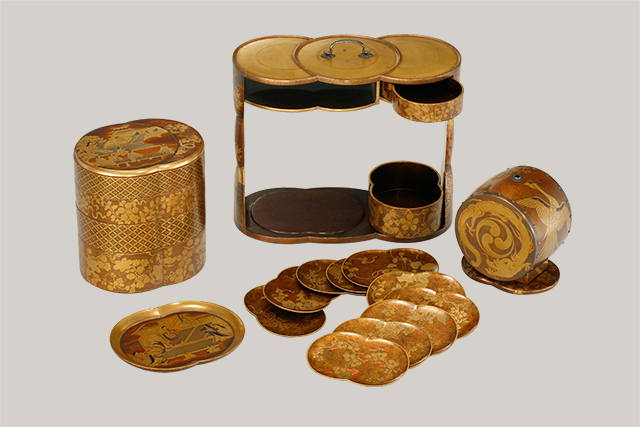 A picnic set in the shape of tsuzumi

19th century, Edo to Meiji period
138mmx292mmx238mm
Sageju, picnic sets, were often made in various shapes and playful designs as seen in this example. This amusing set contains a stack of boxes, a sake bottle, and plates in an outer framework with its sides carved in the shape of tsuzumi cylinders. In relation to this, the top board of the frame, the boxes and the plates are all made in the shape of tsuzumi leathers. The sake bottle takes the form of a drum that has no relevance to tsuzumi, but the shape was probably chosen just because it is another musical instrument. The top of the tiered boxes and an attached tray depict the scene of Kiritsubo and E-awase chapters from the tale of Genji and are decorated with an intricate makie technique that exemplifies the craftsmanship of the Edo period.
A set of tiered boxes with a handle with pine, bamboo and plum design in makie

19th century, Meiji period
Tiered picnic box:183mmx198mmx260mm
Sake Cup :108mmx108mmx22mm
A set of tiered boxes in the form of five drawers in a case. The exterior of the five compartments each depicts rhomboid patterns of pines, plum blossoms, bamboos, cranes and hexagonal turtle shells respectively, which all symbolize longevity. The design is inlaid in slightly raised gold makie and aokin burnished makie. With precise makie technique and stylized yet simple decoration, this work creates an extremely refined impression. The lid attached to the compartment with the pine design can be used as a tray for a sake cup. It makes a good combination of "pine and bamboo" with the red lacquered sake cup decorated with bamboo design.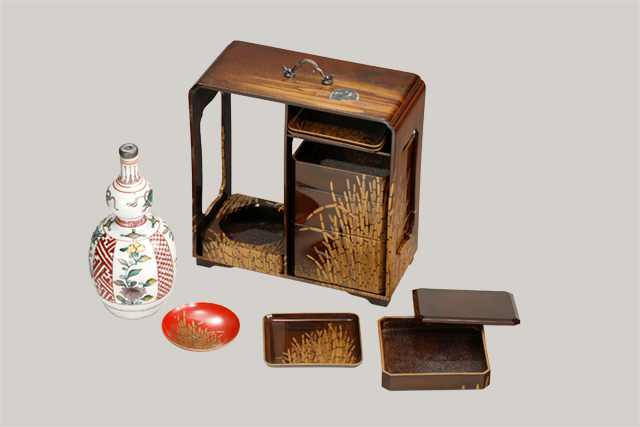 A picnic set with scouring rush design in makie

20th century, Meiji to Taisho period
115mmx250mmx260mm
A picnic set coated with urumi-urushi (black lacquer mixed with red lacquer). All the lacquer equipments are decorated with the design of tokusa (scouring rush) in gold and silver hira-makie. A gourd-shaped sake bottle with a design of flowers and assorted treasures in overglaze enamels is attached to this set. Tokusa is a popular motif for Japanese decorative art due to its unique form. Here, the tokusa motif is combined with a full moon depicted on the top board in reference to the Noh play "Tokusagari". This decorative technique of "rusu- monyo", in which a subject matter is not depicted but symbolically suggested through related objects, is often seen in makie lacquerware.
A pair of sake ewers with pine, bamboo and plum design in makie

Artist: Futagi Seiho / 20th century, Taisho to Showa period
145mmx145mmx80mm
It has a lid with a knob in the shape of a pistil and stamens, and a handle decorated with coiled silver wire. The body is divided in concentric circles and each band depicts stylized pine, bamboo, plum, and check patterns respectively with the technique of gold and silver makie and nashiji. The bottom part of the body is decorated with gradating makie. Gold flattened powder is carefully arranged along the rim of the spout. This is a work of Futagi Seiho, who was active from the Taisho to Showa period and obtained high reputation at the Imperial Academy Art Exhibition and the Nitten Exhibition.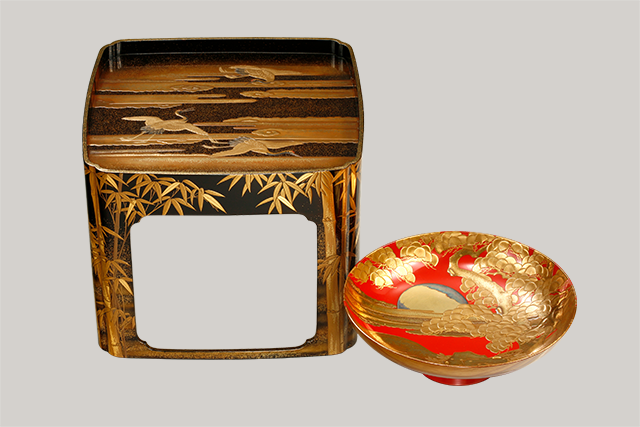 A set of large sake cup with pine, bamboo, plum and crane design in makie and a stand

20th century, Meiji to Taisho period
Stand:250mmx260mmx265mm
Sake Cup:200mmx200mmx60mm
A large set of red lacquered sake cup with a high foot and black lacquered stand with cutouts of square with grooved corners. The inside of the cup, the backside, the top of the stand, and the side of the stand each depict a pine tree and the rising sun, a crane by a plum tree, cranes flying in the clouds, and bamboo bush respectively. When combined, the cup and stand makes a familiar "crane with pine, bamboo and plum" composition. The design is lavishly applied in highly raised makie with abundant gold cut foils. The craftsman "Kosetsu" whose signature is inscribed in makie on the outer casing is unknown, yet intricately executed tsukegaki and kakiwari, and carefully arranged flattened gold powder on the rim of the stand suggest that he was one of the craftsmen who belonged to a school of Kaga makie.
Modern Lacquer Arts
This collection consists of 33 works from the late Showa to the Heisei era.
All of these works have been exhibited in the Japan Traditional Lacquerware Exhibition. This exhibition is held every New Year's. Exhibitors are among the most creative practitioners of the craft, having added their own modem perspectives to traditional lacquer techniques from all over Japan.
Over the years, Kibun Foods Inc. has shown support for lacquer artists by adding many of the exhibited pieces to our collection. Of the 30 artists featured here,12 individuals are recognized as Living National Treasures (Preservers of Important Intangible Cultural Properties), embodying the quintessence of modem lacquer artistry.
As successors of the traditions of Kaga lacquerware, they continue a tradition of beauty intensified through the ages.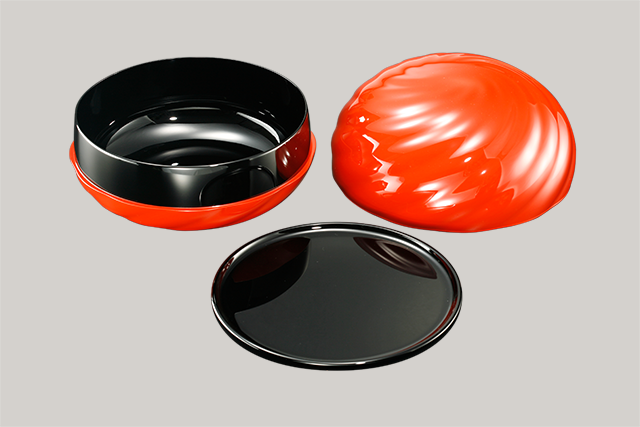 Vermillion dry lacquer lidded container

Artist: Hayashi Satoru
245mmx245mmx165mm
By placing curvaceous, diagonal lines on the surface of this lively container, I invite the viewer to contemplate their movement across the surface. The brilliant vermillion color arises from a combination of reddish vermillion, pale vermillion, and yellowish vermillion lacquers, applied by authentic lacquering techniques. In the dry lacquer technique used, four coarse pieces of hemp cloth and two thin strips of fabric were applied to the surface of a plaster mold with adhesive lacquer, four pieces of double sided Japanese paper were then attached in layers, a base coat of lacquer was applied, and then the mold was removed, leaving the container ready for finishing. The interior, polished to a high gloss, is practical to use with the shallow tray placed inside.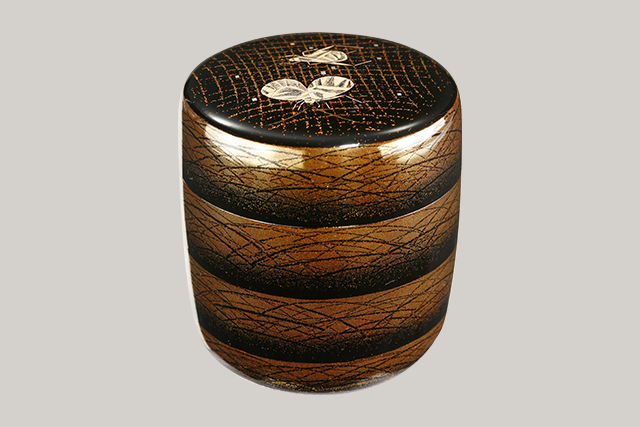 Bell cricket white-lip oyster makie tea caddy

Artist: Taguchi Yoshikuni
78mmx78mmx87mm
Two bell crickets, a male and a female, have been placed on the top surface of the tea caddy. The scene depicts the chirp-chirp of the male cricket singing praises to the autumn night. Hinoki cypress and Japanese lacquer have been used, and the lacquer has been masterfully applied. Mother-of-pearl from the white-lip oyster is used for the bell crickets, and the entire top surface of the tea caddy has been drawn with curved lines that represent a grassy thicket and create a harmonious design. Another grassy thicket motif divides the sides of the container into four levels, representing a wide, overgrown field. For the bell crickets, mother-of-pearl was painted silver, and a metal stylus was used to scratch away the silver to create the design. The grassy thicket design on the sides was created by first applying coarse tin powder to the surface and then removing the powder with a metal stylus.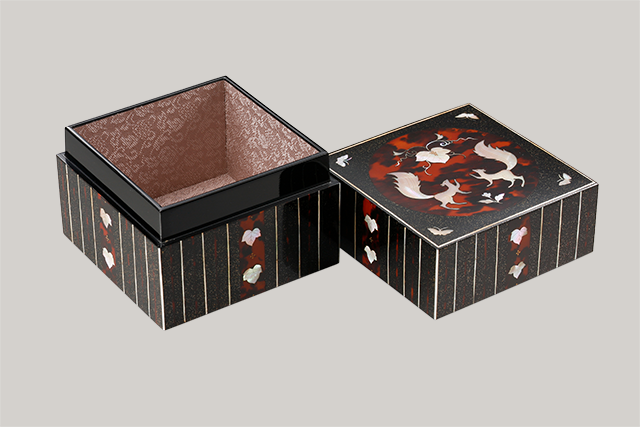 "Minori", hawksbill turtle mother-of-pearl ornamental box

Artist: Kitamura Shosai
124mmx124mmx105mm
The hawksbill turtle is a sea turtle whose shell is commonly referred to as "bekko", a material that for a long time has been used in combination with turban shell in various decorative techniques. Splendid treasures housed at Shoso-in include the "Hawksbill Turban Shell Octagonal Box" and the "Turban Shell Rosewood Five Stringed Biwa", As an artist, my main theme involves the research of ancient craft techniques and the investigation of how those techniques can be reapplied in a modern context. For the main motif, I chose a central image of the sacred grape tree that traveled along the Silk Road from Persia's Sassanid Empire to Tang China and Nara's Shoso-in, and in symmetry to the tree, the image of a squirrel trying to take a bunch of grapes. This image represents a prayer for fertility as well as the flowing development of Eastern & Western culture.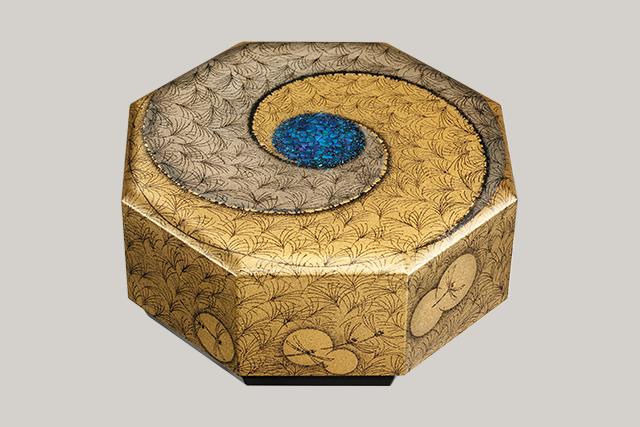 "Seishu", makie octagonal box

Artist: Ichishima Ougyo
170mmx170mmx75mm
This box was made by applying hemp cloth to a base of hinoki cypress wood, built without nails, and coating the hemp-covered base with layers of unrefined lacquer mixed with clay powder. The shining blue area in the center of the lid is made of jewel beetle shell. Fields of gold and silver susuki grass spread out across the surface of the entire container; there are also images of dragonflies in flight. With this engraving technique, a layer of lacquer is followed by an application of gold powder, and the design is then scratched into the surface before the lacquer has a chance to dry. For this reason the artist is not able to work from an under-drawing, nor pause to rest once the process is started. The susuki grass embodies the wind itself when a gust blows through a field, playing a beautiful melody. I chose to express the rhythmical world of autumn scenery through the swirling forces of the vortex.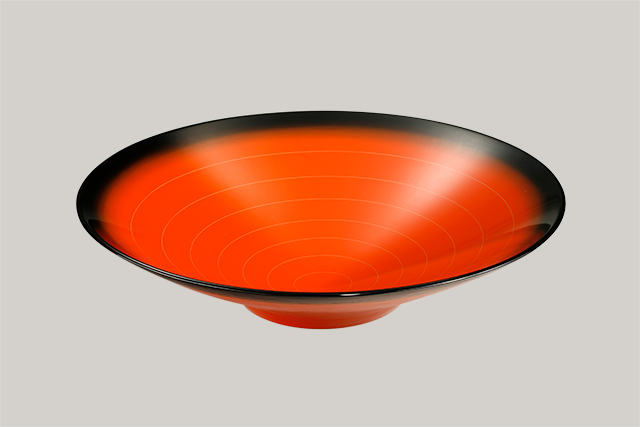 "Wa", kinma vessel with roped body

Artist: Nishioka Shunsetsu
430mmx430mmx95mm
When crafting this piece, I imagined a floating reverse triangle and devised a roped body to create the form. First I made a plaster model then I wrapped it with lacquered cotton rope. Hemp cloth was then wrapped three times around the vessel. A thick cotton rope was then wrapped on top, and the plaster removed after the piece dried. On the roped surface, I applied 15 layers of flat lacquer, red and black with shaded coating (bokashi-nuri). The red lacquer section features a pattern created with a kinma (incised and color-filled ) technique from Kagawa prefecture. Hollow areas are filled with colored lacquer then charcoal polished. The base underside adds stability to the natural form and is finished with red and black bokashi-nuri lacquer.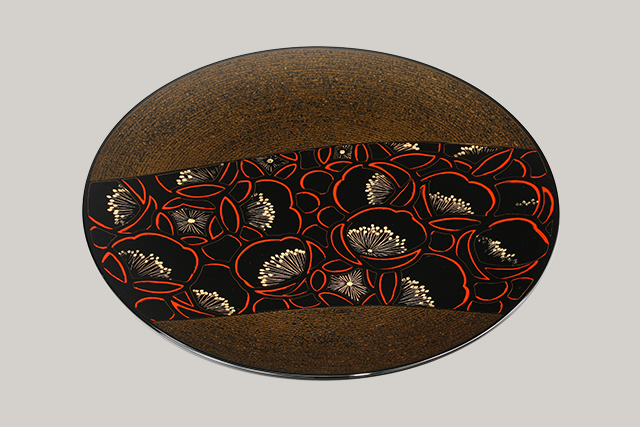 Kinma lacquer dish with plum crests

Artist: Isoi Masami
270mmx270mmx35mm
This is one piece in a plum series. In the Manyoshu, there are 119 poems on plums, making it the second most popular theme. Compared to the 47 poems on cherry blossoms, plums number significantly more. One reason is the novelty of plums at that time, having just been introduced to Japan. This piece was formed of pigmented veneer, varnished and wrapped with hemp cloth. Fifteen layers of black lacquer were then applied, and the shape was divided into three sections with curved lines. Gold dust and silk floss were scrubbed upon the first layer of lacquer, then red lacquer was applied. After this process was repeated several times, the piece was polished. The plum flowers were then carved, with lacquer applied to the necessary parts by brush. The remaining parts were covered with black lacquer and polished. The lines that you see are not painted and not carved, but mysteriously drawn.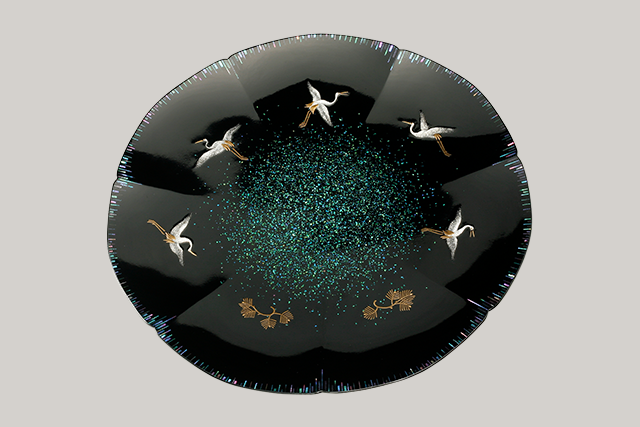 "Maizuru", metal makie lacquer dish

Artist :Terai Naoji
333mmx333mmx22mm
The artist was born in Kanazawa city and graduated from the Tokyo University of the Arts. Terai also studied with Rokkaku Shisui and Matsuda Gonroku. Thereafter he researched metal lacquerware (kintai) and lacquer techniques from a scientific point of view. From 1952, he took up the crushed eggshell (rankaku) technique. Metal lacquerware uses anodized aluminum, and the rankaku makie technique involves incorporating eggshells of Japanese quail, giving the piece a modern feel and sensitivity, full of elegance. The kintai dish is a soft seven-petal flower shape with designs of two pine trees and five cranes. Cranes, along with herons and butterflies, are one of the artist's favorite motifs. The center of the dish shines of polished shell, with five cranes flying among the black lacquer. One feels the spread of a small cosmos in this dish.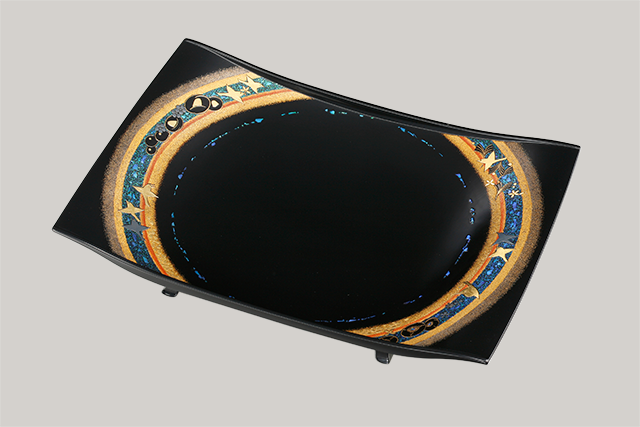 Hyomon dish with rainbow design

Artist: Oba Shogyo
215mmx305mmx55mm
By placing birds and flowers within two rainbows against a black space, I tried to express feelings of harmony, affinity, and love. I was also conscious of the relationship between the colors: gold and silver, made from shells, and red and black lacquer. Finally, I took into consideration the dish's size, measurements and depth. It was designed to be used as a dish or tray, with an emphasis on beauty of shape, functionality and stability. It is made of hinoki cypress finished with wax colored lacquer (roiro). The gold and silver bird and flower motifs were embedded using the hyomon technique. For the colors in the rainbows, inlaid mother-of-pearl (jewel beetle shell), gold and silver makie, red lacquer and gold hirame powder were used. When making the wooden base, it was extremely difficult to obtain a perfectly curved shape. Since the bottom is also curved, I attached two legs to give it a sense of stability and strength.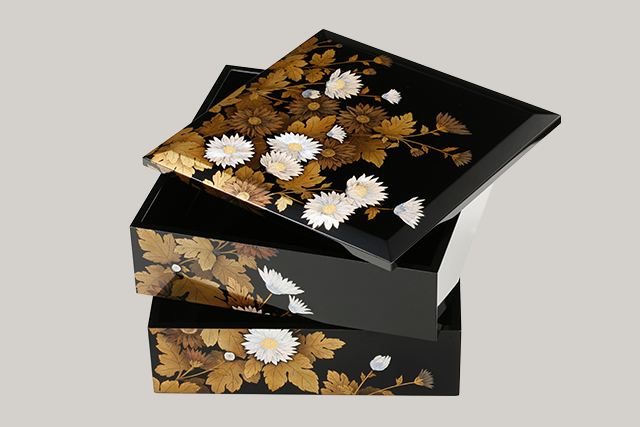 Makie tiered box with chrysanthemum design

Artist: Ogura Norihiko
210mmx210mmx130mm
The base wood used for this piece is straight grain hinoki cypress and straight grain katsura. The lacquer was applied by fabric coating using the honkataji technique. The composition features chrysanthemums, designed to look visually natural rather than realistically accurate. Strong contrast between the plain black lacquer background and the decorative makie sections brings out their distinct qualities and creates added dimension. For the chrysanthemum flowers, I used white-lip oyster shell. Silver powder was added to the back of the shell by the fusesaishiki technique then scorched. The design was then scratched away create a sense of volume. The makie flower petals were also scratched after powder was added, giving them the look of a paintbrush. Finally, the entire piece was polished with Suruga charcoal. The result is a layered box with a painterly look on a black background, created by the togidashi makie technique.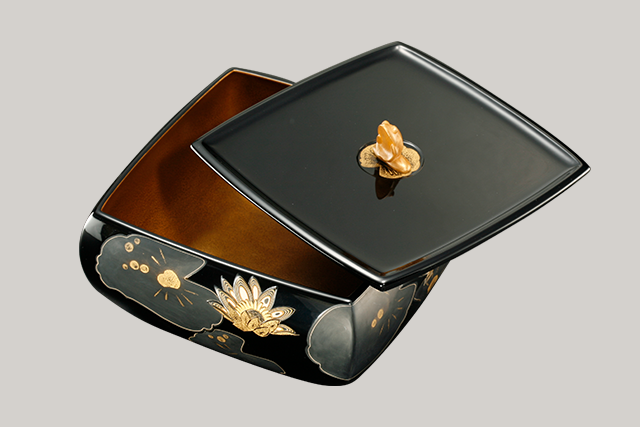 Water jar with water lily design

Artist: Otomaru Kodo
210mmx210mmx135mm
Over a soft dobari paper ground, over 50 layers of lacquer were applied in a black-white-red-black-white-black sequence, then carved with a water lily and leaf design. On the inner surface, gold powder was added to the top coating, and two layers of oil glaze were applied then polished. The lid was carved from straight grain hinoki cypress wood, then black lacquer was applied and finished with a wax lacquer coating. As a prayer, the artist carved a figure of the Bodhisattva Kawazu Kannon from lacquer and finished it with gold to create a knob. The water lilies are depicted with dewdrops, and the piece as a whole has a finished dignity.