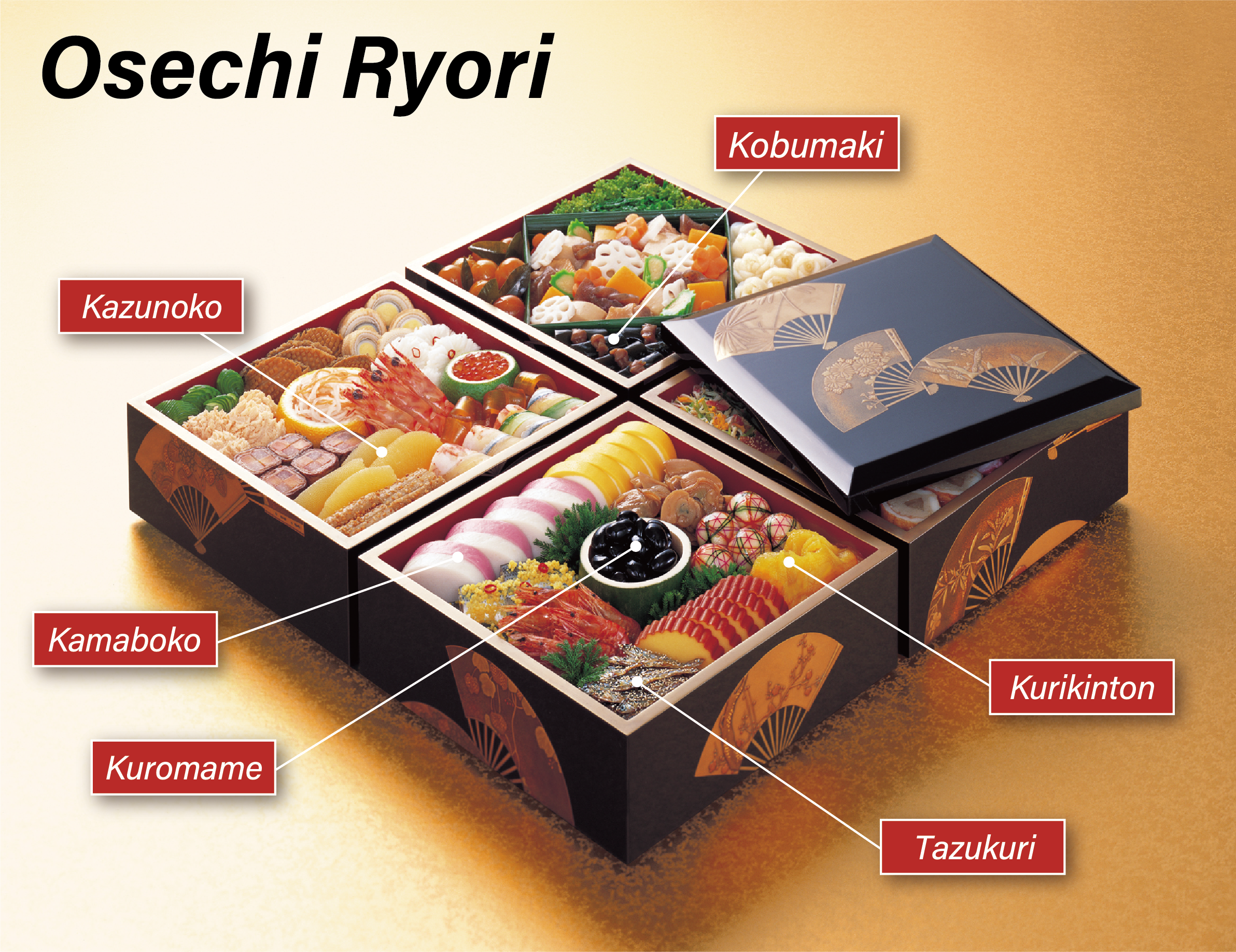 Japanese New Year and Osechi Ryori
Since ancient times, the Japanese have placed enormous value on New Year's events and culture. Shogatsu, the Japanese New Year's holiday, is both the celebration of the New Year and the day when people welcome into their home the New Year gods, called toshigami sama(agricultural deities)and pray for the happiness of their family and a rich harvest.
The foods eaten at this time are called osechi ryori, which developed out of court celebrations during the Heian period (794–1185). In the 1,000 years since then, osechi ryori has become an established part of life in Japan as an offering to the toshigami sama and as auspicious foods eaten with a wish for the happiness of the family and an abundant harvest.
Osechi Ryori in the Past
Osechi ryori up until the Meiji, Taisho, and early Showa eras (1868 to 1935) was not as luxurious as that shown in the photos.
At that time, osechi was packed in tiered food boxes and seen by only a few people, such as the wealthy in urban areas. For common people across Japan, osechi ryori was no more than plates piled with about three dishes, mainly nishime (vegetables stewed in a soy broth) as well as kuromame (sweetened black beans), tazukuri (dried young anchovies), and kazunoko (herring roe).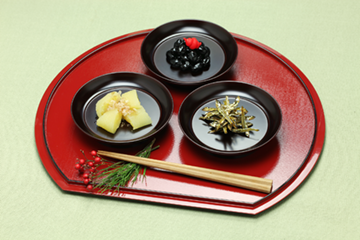 Kibun and the Development of Osechi Ryori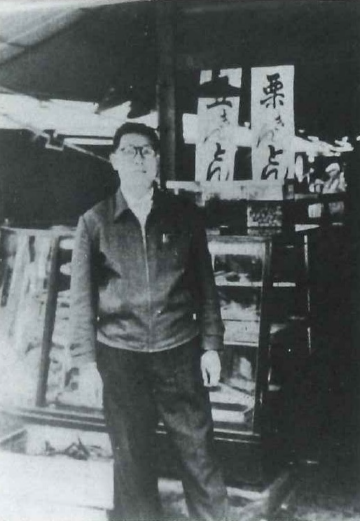 Founded in 1938, Kibun began full-scale production in 1950 of kamaboko and date-maki, two of the leading osechi dishes, with the hope that more people could enjoy this wonderful food culture.
At the same time, for manufacturing and selling osechi, we are also educating people about osechi through cooking classes, newspaper ads, and radio announcements.
Specifically, we began holding osechi cooking classes for consumers in 1973, and held the first overseas osechi cooking events in Hawaii in 1981 and in Los Angeles in 1982.
In 1974, Kibun began inviting supermarkets and other distributors to a New Year's product presentation. In addition to introducing new products, lectures were given on topics such as economic trends during the year-end and New Year's holidays as well as the history of Japan's New Year's culture and osechi.
So, Kibun is now credited with contributing to the development of modern osechi ryori.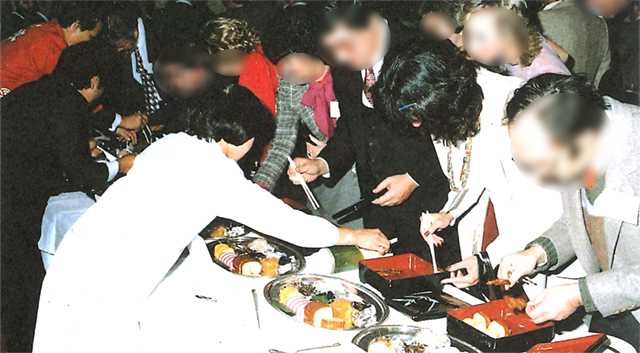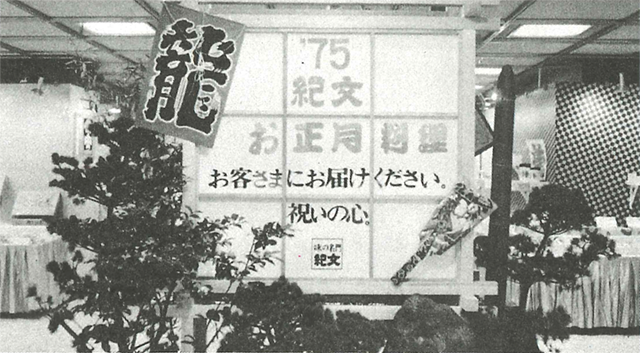 An Array of Osechi Dishes
The following explains the various dishes packed into the tiered boxes and is an overview of the history behind the foods (the meanings associated with each ingredient).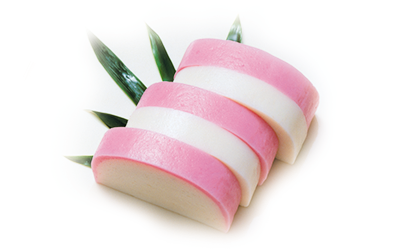 Red and white kamaboko
Kamaboko is a loaf of surimi fish paste steamed on a small wooden board until firm. The shape of Kibun's kamaboko is called yamataka. It is bright white and has a springy texture.
---
Kamaboko symbolizes the sunrise: red represents optimism and joy, and white divinity.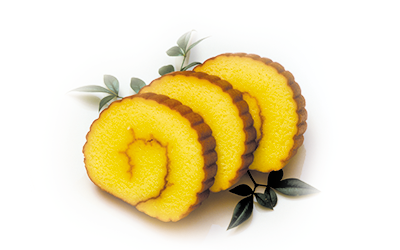 Datemaki
Datemaki is a dish of surimi fish paste mixed with egg yolk and flavorings such as sugar, and then grilled and rolled into a cylindrical shape.
Since documents and paintings were rolled up as scrolls in the past, datemaki represents the hope for more knowledge.
Nishiki-tamago
Nishiki-tamago is a dish of boiled eggs divided into yolks and whites, seasoned with flavorings such as sugar, then steamed after being strained.
The yolks represent the color gold, and the whites the color silver, and together they are auspicious, as they suggest gold and silver treasure.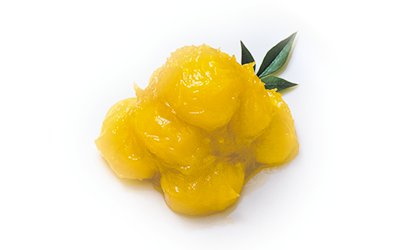 Kurikinton
Kurikinton is made of boiled sweet potatoes and chestnuts sweetened with sugar and then made into a paste and mixed with chestnuts seasoned with sugar.
Likened to a golden treasure, it is meant as a wish for a year of abundance.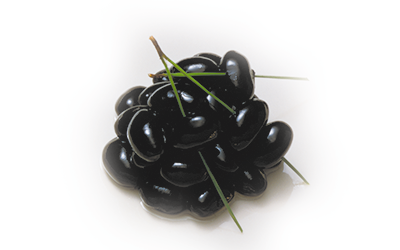 Kuromame
Kuromame are a type of soybean, similar to yellow or green soybeans, except that their skin is black. They are eaten boiled in soy sauce and sugar.
Mame, the Japanese word for beans, originally meant strong and healthy, and kuromame are essential in osechi ryori.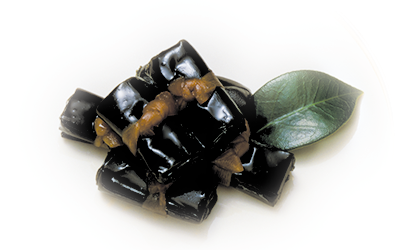 Konbumaki
Konbumaki is a dish made by rolling konbu (kelp) tied with a strip of dried bottle gourd, then boiled in soy sauce and sugar.
It is meant as a wish to live with joy for the year.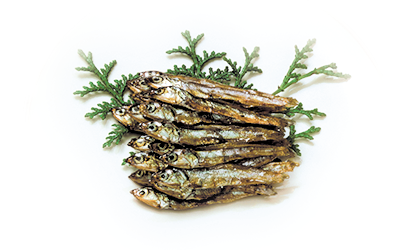 Tazukuri
Tazukuri refers to dried young anchovies as well as the dish made from them: anchovies boiled down in soy sauce and mirin (sweet sake used for cooking).
It is meant as a wish for a good harvest, since anchovies have been used as fertilizer for rice fields since ancient times.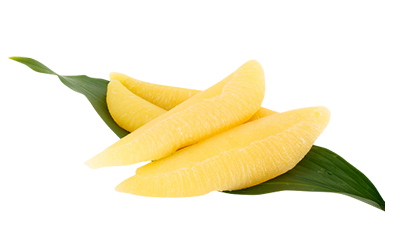 Kazunoko
Kazunoko is salted or dried herring roe.
The ovaries of herring contain a lot of eggs, so are associated with good fortune for the continuation of the family line.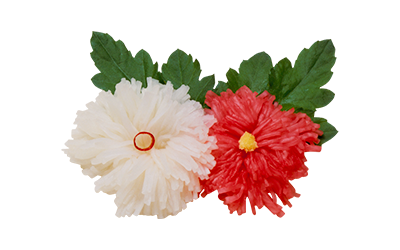 Kikka-kabu
Kikka-kabu is a turnip with small cuts, pickled in sweetened vinegar, and then the cuts are opened into the shape of a chrysanthemum flower.
Chrysanthemums are considered sacred. In China, chrysanthemums have long been used as a medicinal herb for longevity, and when that practice spread to Japan, chrysanthemums became an auspicious flower to pray for longevity.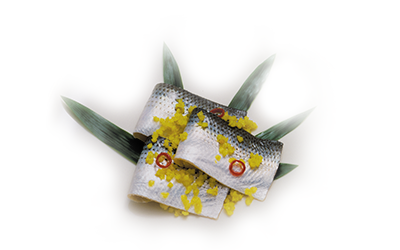 Kohada-awazuke
Kohada-awazuke is a dish made by pickling konoshiro gizzard shad, a fish in the Clupeidae family, in vinegar and then pickling it with millet dyed orange-yellow with Cape jasmine.
Kohada is the name of konoshiro gizzard shad before they become adult fish. This fish is said to be auspicious because its name changes with its stage of growth. The yellow millet is meant as a wish for an abundant harvest.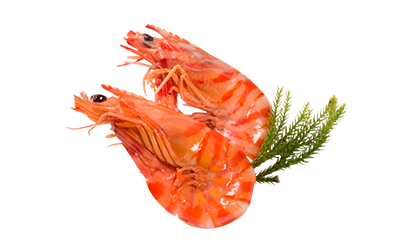 Ebi (Simmered Prawns)
Simmered prawns is a dish with the heads left on, seasoned with soup stock, soy sauce, and mirin (sweet sake used for cooking).
The prawns evoke an old man with a long beard and bent back, so are meant as a wish for longevity.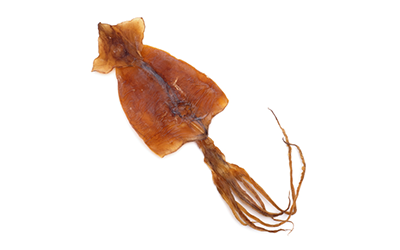 Surume
Surume is squid that has been flayed, the organs removed, and then flattened and dried in the wind.
This food has a long history; it used to be presented to the imperial court during the Heian period. Today, surume is used as an engagement gift, and is an essential dish at happy celebrations.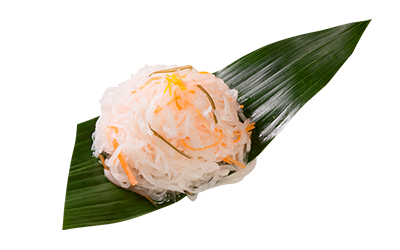 Namasu
Namasu is a dish of shredded daikon radish and carrot seasoned with vinegar and sugar.
In Japan, there is a custom of tying decorative knots using red and white cords on celebratory gifts, so the combination of red carrots and white radish is festive.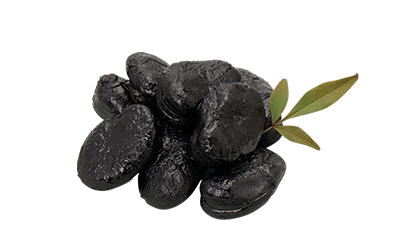 Otafuku-mame
Otafuku-mame is a dish made by rehydrating dried broad beans in water, then cooking them in sugar and mirin (sweet sake used for cooking).
The broad beans resemble an otafuku face, a shape that is thought to attract good luck (otafuku literally means "much good luck").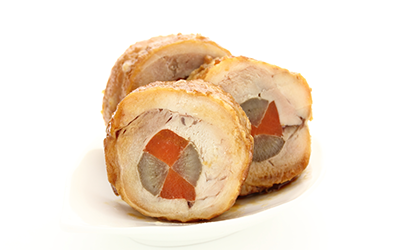 Gobo yawatamaki
Goboyawatamaki is a dish made of burdock, a type of root, boiled until soft and then wrapped in meat or fish.
It is meant as a wish that the family, or a career, will "take root" and prosper like a burdock that is firmly in the ground with its long and slender root.